iMovie is software for Mac users for editing videos. It's fast, free, beginner-friendly, and does its job simply.
But let's be honest, iMovie fails in many areas to create compelling and trendy videos for social media. It lacks the effects, filters, and tools you need to make fun TikTok videos or Instagram stories.
Maybe it's time to look for an alternative? Well, we've been wondering the same thing and researching to find the best iMovie alternative apps for editing and creating videos.
In this post, we'll take a look at some of the best apps you can use to edit social media videos, create vlogs on YouTube, and create trendy TikToks. Most of these applications work on both Macs and Windows. Wait and see.
Why use iMovie?
Before we get on the list, let's make one thing clear. iMovie is a great app. The main purpose of this app is to help Apple users edit simple videos and easily process videos captured on iPhone and iPad. iMovie does this job perfectly.
But today, you need a lot more than a quickly edited video to get more views on social media or even get your audience's attention. If fast-growing platforms like TikTok and Instagram have shown us one thing, people will prefer videos with fun animations and trendy filters. This is where iMovie lags behind.
There are much better apps to help you do wonders with your videos. These apps are used by the most popular influencers to edit and produce videos. They are actually quite inexpensive and easy to use.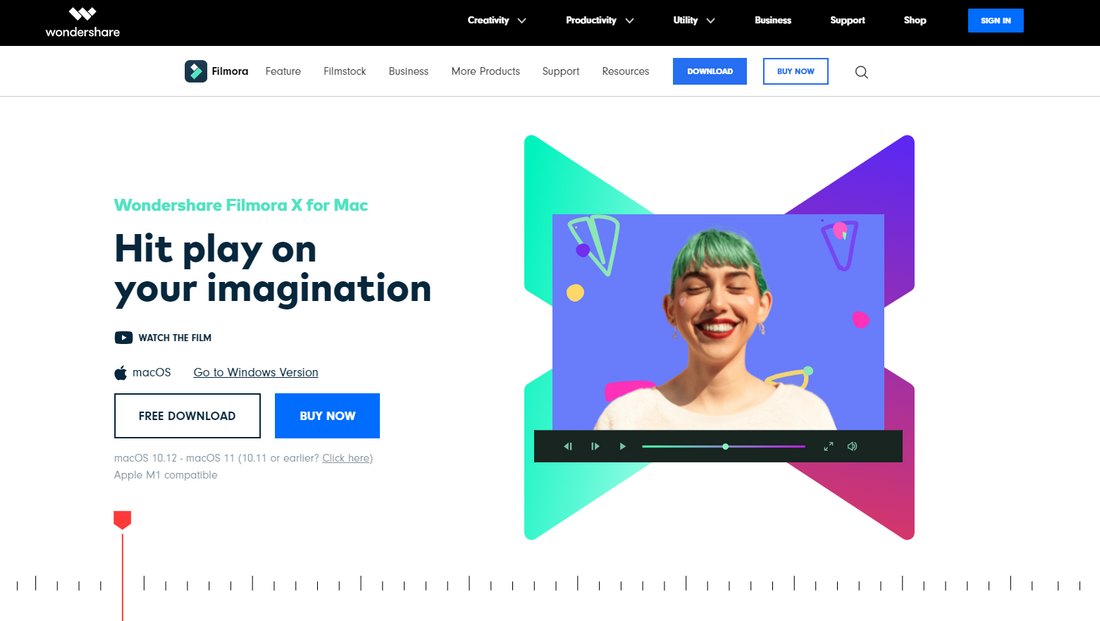 Wondershare's Filmora X is one of the best options for iMovie you'll find. Not only does this software have all the best features for video editing, it is packed with video effects and filters to help you create great videos on social media.
Filmora is a great alternative to iMovie on a Mac, but it also has a Windows version if you also use this platform.
One of the best features of this app is the AI ​​Portrait tool, which allows you to instantly remove background from your videos and replace it with effects. You can also use AR stickers that respond to your facial feelings to create funny videos on social media.
If you create YouTube tutorials or video guides, you can use Filmora to record a screen. You can then easily import your recorded videos and start editing directly from Filmora. If you work with green screens, the app also has a simple tool to open the background.
Filmora has many useful tools for experienced video editing programs. Like color grading tools to help you create cinematic looks for your videos and audio.
The best part is that you don't have to be an expert to perform any of these tasks. Filmora X is very beginner-friendly and even has lots of tutorials to help you learn the app in minutes.
Outline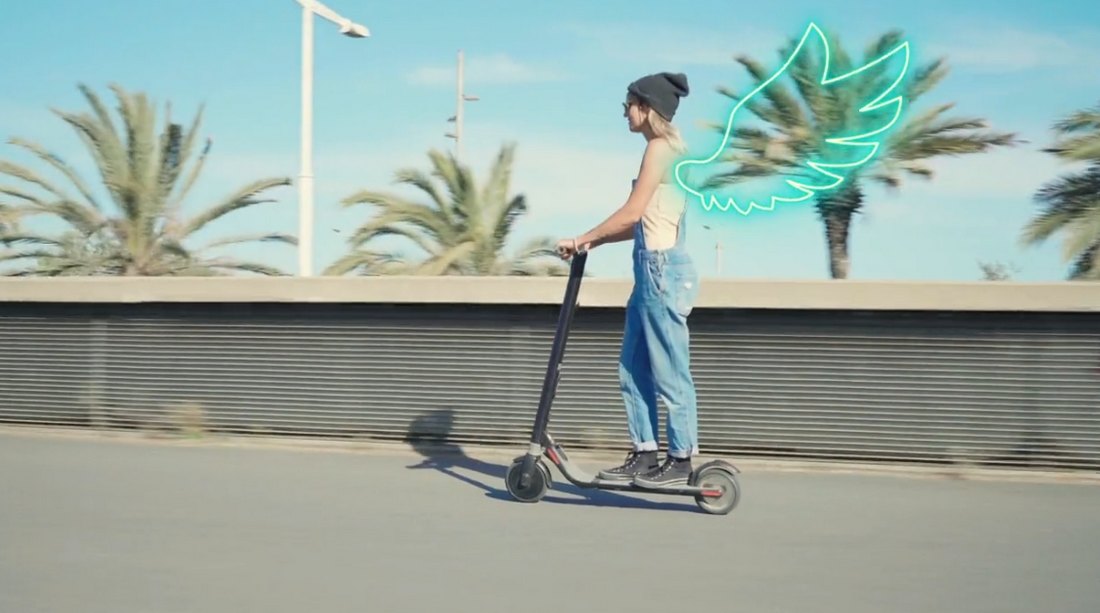 Cut, edit, add filters and motion elements, and create trendy videos
Crop videos to social media with Smart Center Detection
Apply color settings immediately from another clip using the Color Matching feature
Easily change the background of your videos
You can add fun videos using motion tracking
Access to over 20,000 cloud-based effects and templates from FilmStock
How much does it cost?
Filmora X is available for Mac and Windows. The software includes flexible pricing plans, including annual subscription plans and lifetime plans. With the free trial option, you can check if Filmora X is the right choice for you before you sign up for a premium subscription.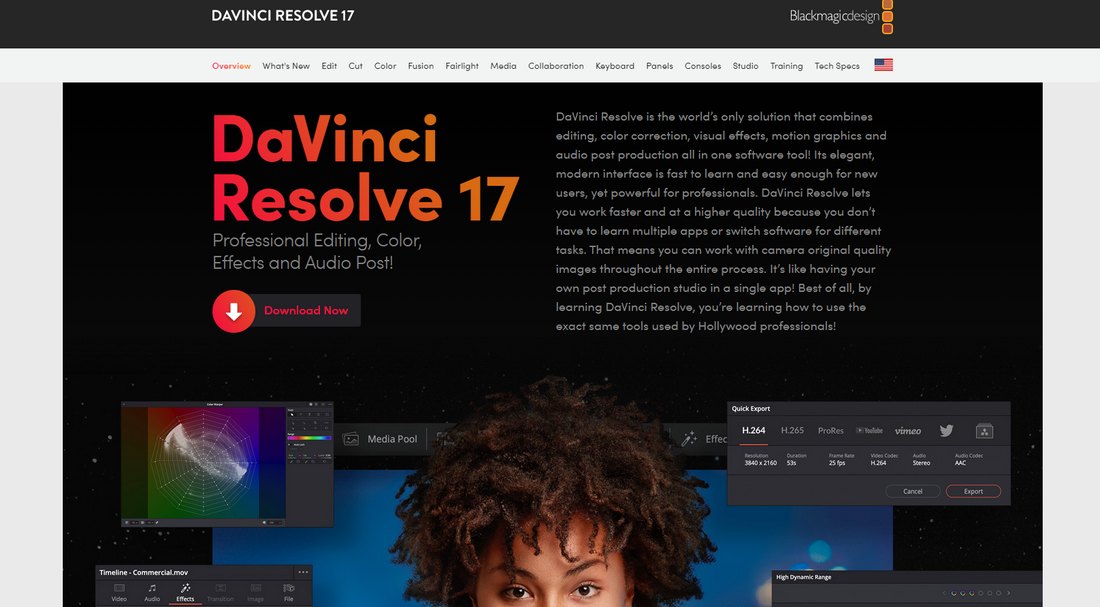 DaVinci Resolve is a popular video editing software that even Hollywood filmmakers use to produce movies and videos. This software can handle both complex videos and simple social media clips.
DaVinci Resolves has an advanced editor that takes some time to learn and get used to. However, this app is completely free. If your budget is tight, this is the best free iMovie option you can use.
DaVinci Resolve also supports third party designs. These allow you to easily create videos without having to spend hours creating your own intros, slideshows, or transfer effects.
Outline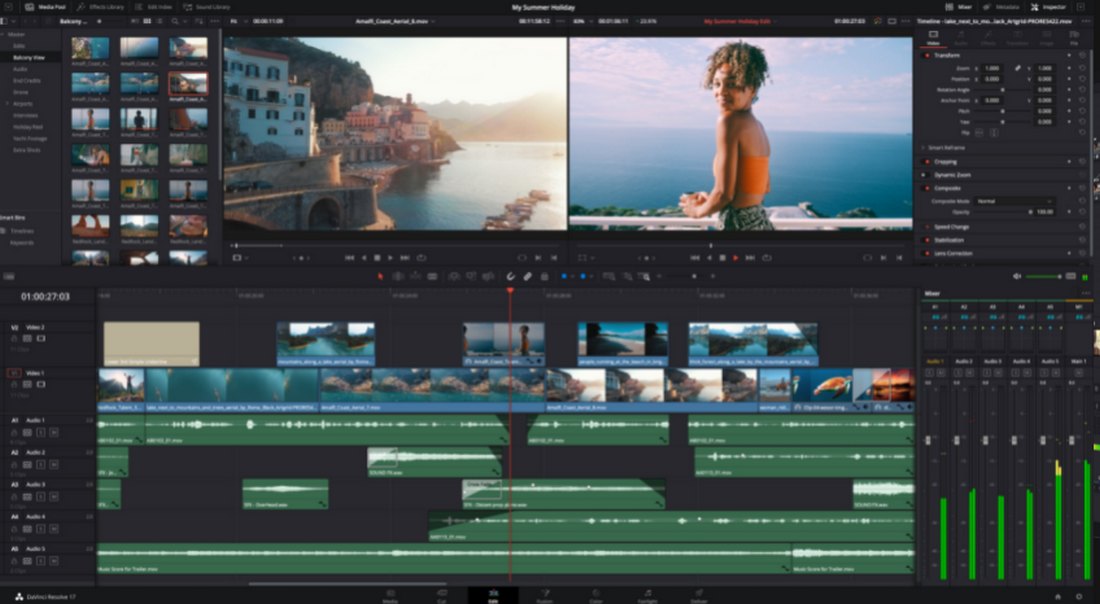 All-in-one editor for producing Hollywood-level videos
Cut, edit, add effects and colorize videos
Add amazing 2D and 3D animations and visual effects with Fusion
Use Fairlight for post-production sound
Access to hundreds of video effects with Resolve FX (premium)
Artificial intelligence DaVinci Neural Engine makes video editing much easier (premium)
How much does it cost?
DaVinci Resolve is free. It is available for Mac, Windows and Linux. There's also a premium version, which you can get for $ 295. This version includes some additional features of the application, such as its Neural Engine and FX filters.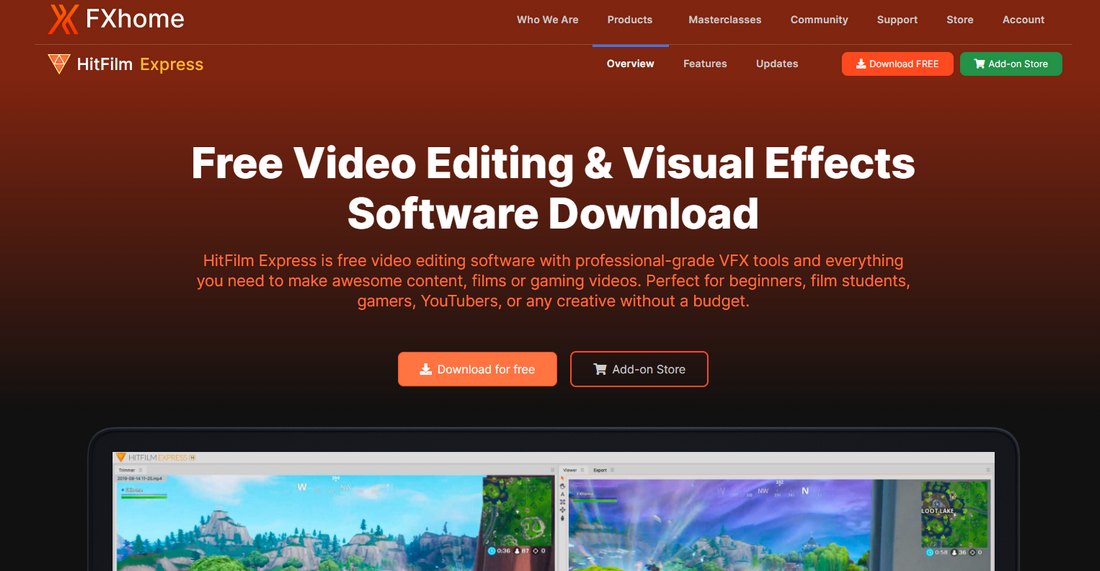 HitFilm Express is another free video editing program that allows you to edit and produce videos. However, this software has a simple interface compared to DaVinci Resolution.
HitFilm Express includes many useful tools to help you create different types of content. It even has a built-in voice recorder that lets you add voice messages to your videos.
The Add-ons Store offers plenty of options to customize the editor the way you want. They let you add visual effects, split-screen overlays, instant beautification effects, and more.
Outline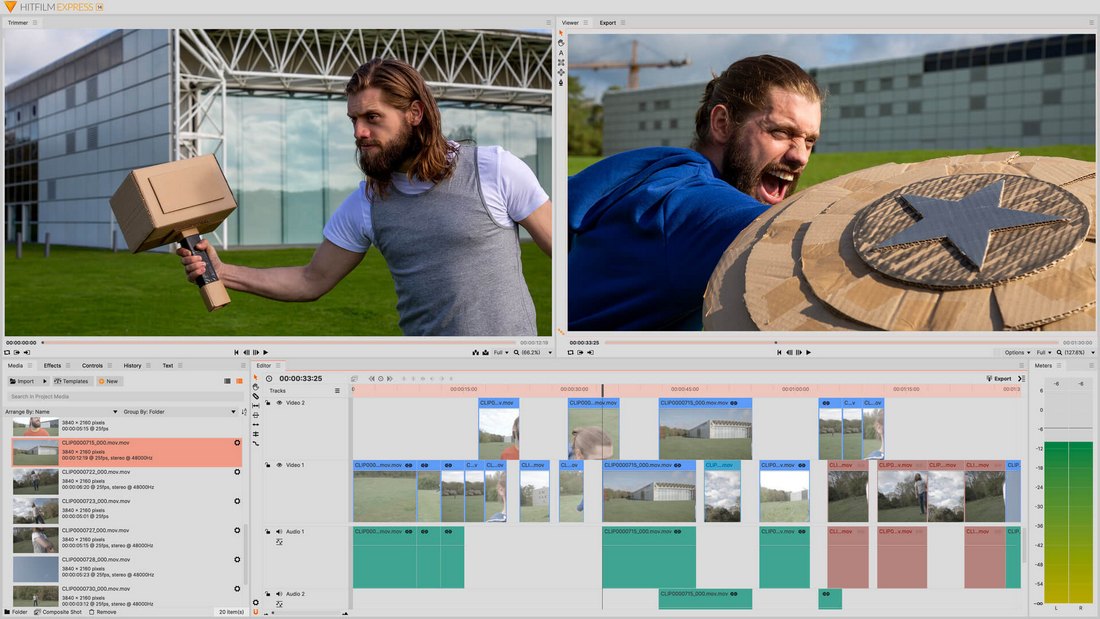 A beginner-friendly editor for producing all kinds of videos
Lots of tools for cutting, animation, sound mixing and more
Create great visual effects and particle systems
Give your videos a new look with LUTs and color rating tools
Also works great with affordable laptops
How much does it cost?
HitFilm Express is available for Mac and Windows. It's free to use for as long as you want. You can also purchase add-ons to add additional features to the editor. Or you can switch to the premium version of HitFilm for $ 349.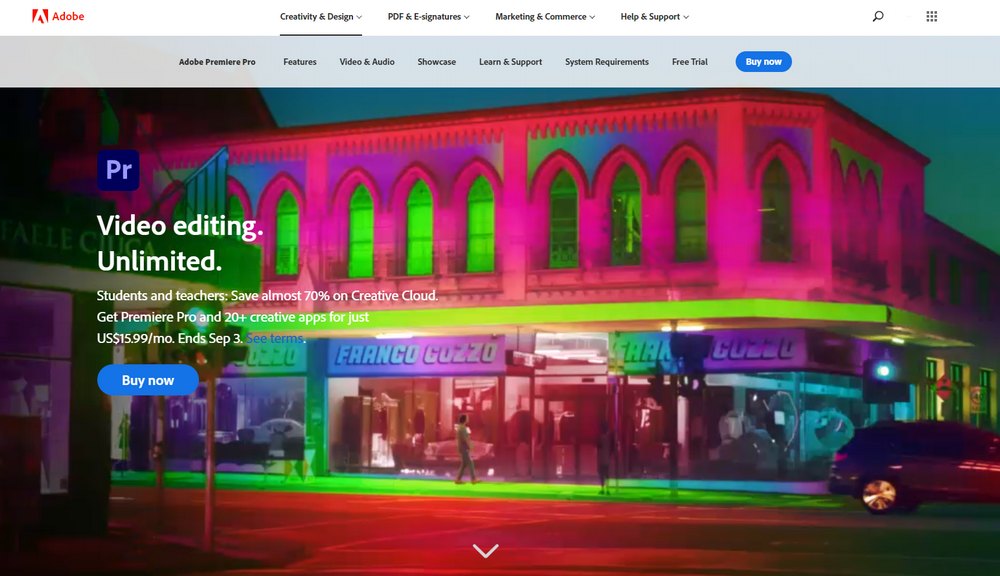 Undoubtedly the most popular video editor used by everyone from Hollywood filmmakers to social media influencers. Premiere Pro is a great choice for advanced users who want to create sophisticated videos with VFX.
Beginners can also use Premiere Pro models create professional videos easily. You will find thousands of amazing Premiere Pro models all over the web. This makes producing videos much easier with little effort. And that's part of why we put Premiere Pro on this list.
Outline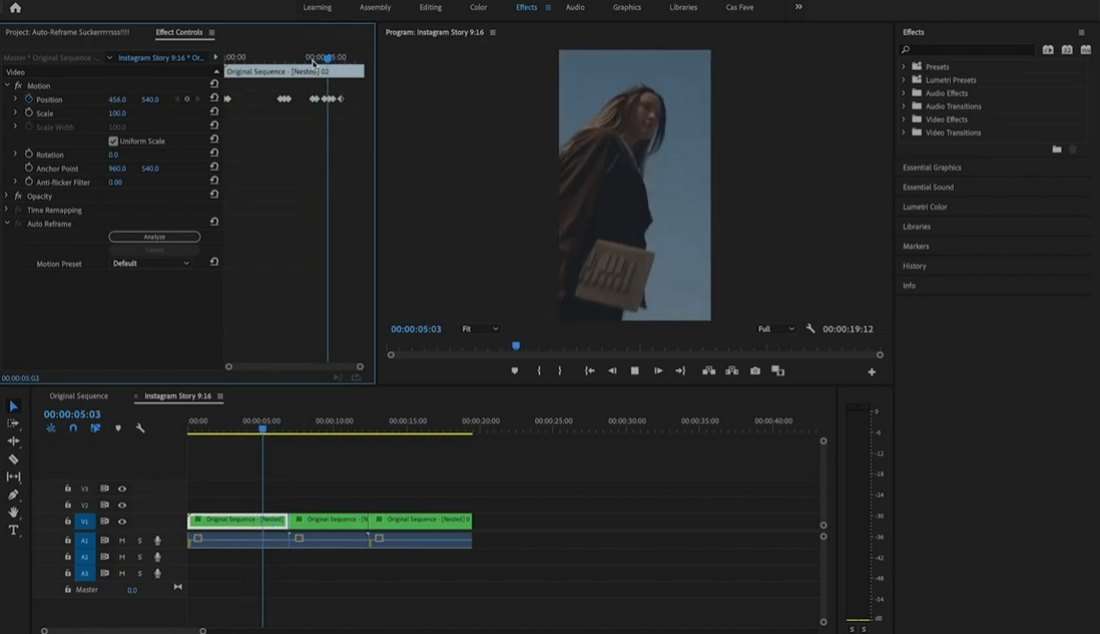 Advanced editor for producing professional videos
Automatically crop and format videos for different social platforms
Easily color your videos with Lumetri Color tools
Adobe Sensei AI recognizes and suggests video editing
Add visual effects, transition animations, keys, and more
Lots of free and premium models to choose from
How much does it cost?
Premiere Pro is available as part of an Adobe Creative Cloud subscription. Use of the app costs $ 20.99 per month.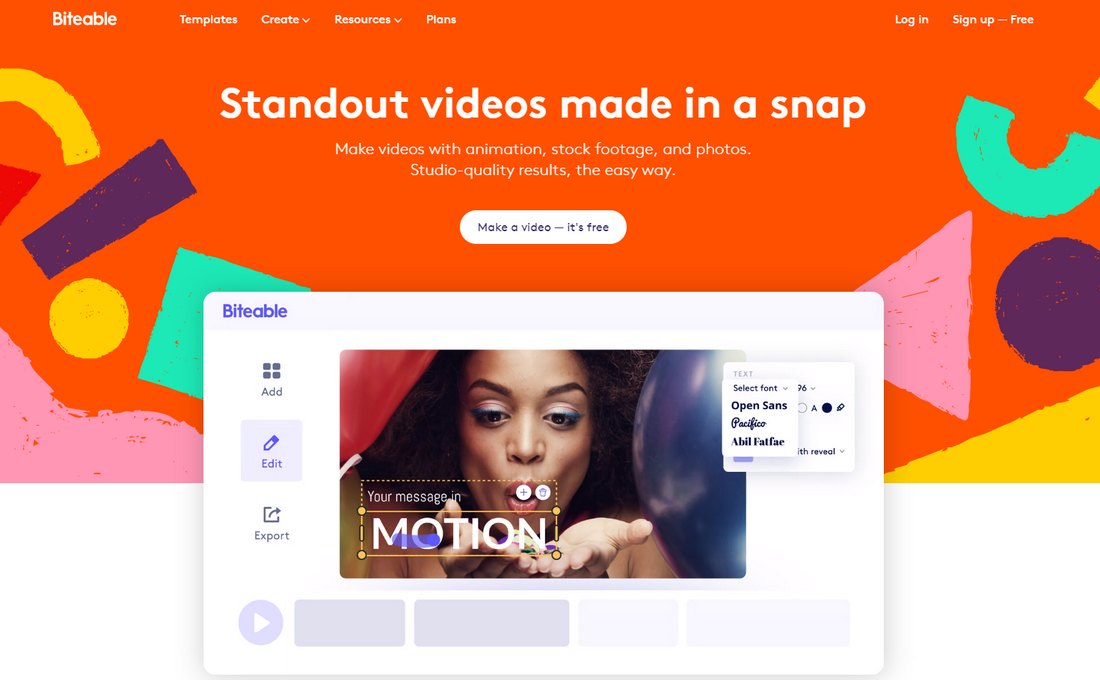 Biteable is a different type of video editing software designed specifically for producing social media content. It is more than a video composition platform.
Biteable provides access to a huge library of images, stock videos, and animations to help you create trendy videos on social media.
You can also upload your own videos to edit, trim, trim and turn them into fun social media ads, TikToks, Instagram stories and even ads.
Outline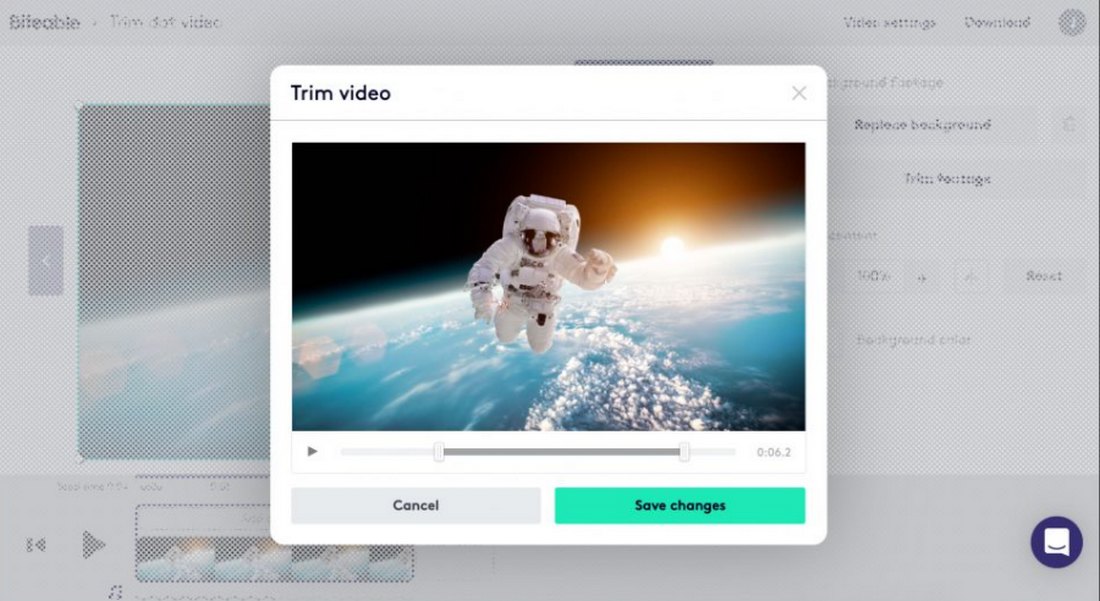 A very simple, beginner-friendly web-based editor for creating social media videos
Access to over 4 million resources, including video clips and animations
Easily cut, crop, edit and trim videos with just a few clicks
Make fully animated videos
Quickly resize videos, make videos from images, and create montages
How much does it cost?
Biteable is web-based software that you can use on any platform. The app has a free plan for unlimited use. However, the videos you export have a Biteable watermark.
You can remove the watermark and take advantage of additional features by subscribing to a premium plan that starts at $ 19 per month.
Which iMovie option is best?
When considering the ease of use, affordability, and features available for creating social media content, Wondershare Filmora X is a strong challenger.
It is very beginner friendly, so anyone can start using the app right away. You get many useful tools, such as AI portrait, AR stickers, and motion tracking. It even allows you to purchase software on demand or pay a one-time fee.
It simply checks all the boxes. You can also use the free trial for a trial run of Filmora X.
If you're looking for a free iMovie option, both DaVinci Resolve and HitFilm Express are good choices. But they involve a bit of a learning curve.