Do you take advantage of all the data you can get from your website from Google Analytics (GA)?
The free tool gives you valuable information about conversions such as conversion rate, traffic sources, engagement, audience data, and more.
Learn what GA is and how it can be used to improve your website metrics.
What is Google Analytics?
Google Analytics is a free tool for tracking user behavior on your website. The information you research will give you an idea of ​​how people are using your website and how you can make changes to increase sales.
At a basic level, you can keep track of how many visitors you have, how they found you, how many pages were viewed, and more.
Google Analytics is in many ways a portal that provides insider, background, and real-time access to what users want.
Why should you use Google Analytics?
Google Analytics is the most powerful tool for tracking website metrics, and it comes from the king of search engines. On top of all that, it's free.
While deployment requires some work, there are plenty of online tutorials and resources to guide you through the process. Once you've connected Google Analytics to your site, you can go to the Google Analytics dashboard and start reviewing things. However, it can't go back in time, so you have to wait for data to be collected.
Google Analytics can free you from gut checks and intuition and tell you instead which pages and what content are relevant or not. This way you can make informed choices.
Basic Google Analytics interface
Once you've set up your Google Analytics account, you can link different URLs and choose what to study from the drop-down menu.
Analytics is the first to display traffic data, including dates. You can change the dates to suit your needs.
Google Analytics provides a list of reporting options on the left side of the screen. Here you can start to get acquainted with the details.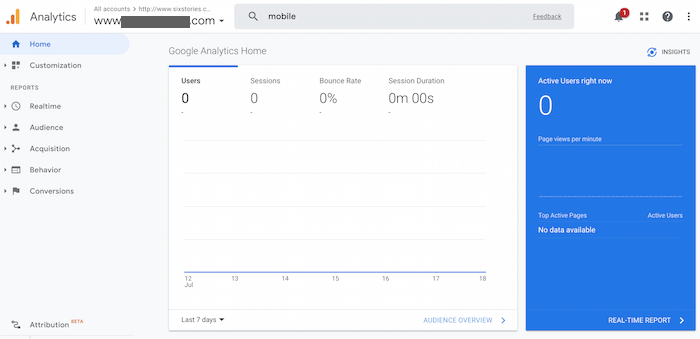 On the right is a blue box with real-time data that shows how many people are on the site, how many pages are viewed per minute, and the top pages you want to view. Then click the blue box for more information.
If you're looking for something special, type it into the handy search bar.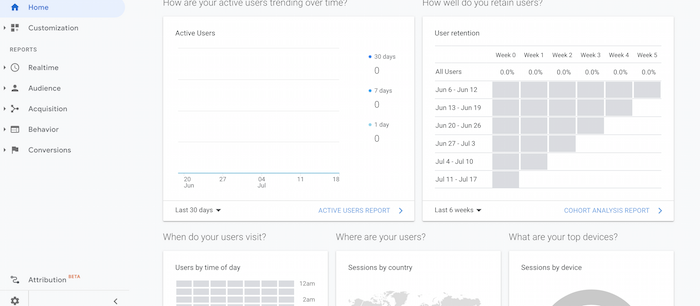 As you scroll down, you can view a variety of analytics, such as where users come from and what devices they use.
Common metrics that are tracked using Google Analytics
With Google Analytics, you can track many metrics.
No matter what type you focus on, you need to choose your time for your information. This way, you can check a specific time period against previous periods to see what changes and whether it works.
When analyzing data, try to remember what you have marketing objectives are. Otherwise, you may be overwhelmed by the vortex of numbers.
Let's look at some of the most popular metrics to get you started.
Tracking visitors with Google Analytics
Visitor tracking shows who is visiting, how many visitors you have and what they are doing to your website. This includes factors such as bounce rates and session durations.
These metrics are anonymous and vague. You may not collect personal information from certain visitors to your website.
You can dig deeper by going to the Audience section of Google Analytics.
Track traffic sources with Google Analytics
Another powerful metric provided by Google Analytics is traffic sources. It answers the question "how do people find my website?" You can find this information on the "Purchasing" tab.
For example, you can find out how much traffic comes from social media, Google Ads, and the Google Search Console. Knowing where your visitors are coming from and what they are doing when they arrive at your site can help you know where to target your marketing.
Content tracking with Google Analytics
Google Analytics can help you understand how very different content run monitoring user behavior. For example, do they visit certain pages more often than others? Is the page time longer for certain types of content? This can help you determine what works and what doesn't, so you can inform about future content production and marketing choices.
You can find this information in the "Behavior" section.
Tracking results with Google Analytics
Let's go to the brass editions here. Do people buy (or do anything else you want them to do) when they come to your website? That's what conversion data in Google Analytics can tell you.
This information is not created automatically like the previous ones. Instead, conversion analytics requires you to set goals. You usually use pages that visitors are directed to after a conversion. If you tell Google Analytics to track users on these final pages, you can get more detailed information about how people get there, how many people convert, and more.
Track mobile performance
Mobile usage becomes normal, so you may want to see how well you use it the website works on mobile devices.
This information can be found under Mobile in the Audience section. Here you can see the website information by device category. For example, if you find that certain users of a device spend less time or money on a site, check how your site looks and works on that device.
Creating custom reports
Once you get control of your website metrics, you may need custom ones Google Analytics reports. Custom reports can help you review certain data more effectively by comparing apples to apples between seasons, campaigns, and more.
These custom reports can help you present information to your department, organization, management, or investors with comparable hard figures and executable visual reports. Of course, not everyone may fully understand what you are doing, but many will likely understand the basics of these numbers and charts.
Other general Google Analytics features and usage
Google Analytics is constantly developing new features which can help you achieve your marketing goals. Let's dive into a few.
Learn what people are looking for on your site
If your website has a lot of content, you may have a search feature available to users. Knowing what people type into that search activity can help you understand why visitors are on your site, allowing you to design and create more relevant content.
To view this information, click Site Search under the Behavior area.
Identify your worst pages
Is there content on your site that just doesn't work? Then you can benefit optimize these pages for search engine optimization, delete unnecessary content or create a completely new job.
To find out which pages aren't working, go to Behavior and then Site Content. Then click the arrow to rearrange the pages by popularity. This indicates which pages receive the fewest views. Do what you want with this information – although you may want to consider finding a reason before throwing the page into the abyss.
Find out where people are rejecting their shopping carts
People who give up shopping carts when shopping are a typical e-commerce problem. If you find visitors to your site, you can make improvements to convert them.
First, set your goals using the funnel. Include all the steps in the checkout process, including shopping cart, checkout, shipping, and confirmation, on the pages you plan to track. Then click "visualize your funnel" to see how people behave as they move through the funnel.
You may see a pattern of when people drop carts and start showing up on updates.
First, look at your main analyzes
As we talked about above, Google Analytics places many of the most common analytics in the dashboard. However, you can configure a custom build screen to see what you need. On the Edit tab, find the Summary Screens link. You can use a summary screen template or create your own.
Create your own reports in Google Analytics
Google Analytics makes it easy to create custom reports for your own use or presentations.
Click 'Customize' and then 'Custom Reports.'

Click "+ New Custom Report" to get started

You can name your custom report as well as each tab you create if you want different variables in the same report.

Choose where you want to create a custom report for reporting, including general data from a drop-down menu, more specific dimensions, and filters to fine-tune the data.

If you scroll over the question mark in the drop-down menu, you'll learn more about each option.

Click to see or restrict all views.

Start with everything if you are unsure. Now click "Save". You will be automatically redirected to a page with information. Here you can save, export, share or edit the report.
If you save it, you can find it in the Saved Reports section of this report.To run this customized report again, go to My Reports.
Google Analytics Basics – Frequently Asked Questions [wp editor: add schema]
What can you do with Google Analytics?
Google Analytics can give you information about who visits your website, how many impressions your site gets, what content is most popular, and more.
What is the best way to learn Google Analytics?
What is the Google Analytics Tracking Code?
Google Analytics uses a tracking ID that you place in the code or extension of your website so that Google can obtain information about your website.
How much does it cost to use Google Analytics?
Most of the benefits of Google Analytics are free, but you can purchase upgrades if you wish.
What are the benefits of using Google Analytics?
Google Analytics provides in-depth information about the performance of your website.
Google Analytics Basics Conclusion
Google Analytics provides almost endless amounts of data from your website. Once you configure Google Analytics on your website, you can use metrics that cover almost all of your customer's trips.
You can create custom reports to analyze how well the strategies are working. This can help you make informed changes to your website, which in turn can attract more people to your brand and analytics-based marketing strategy.
What is your favorite Google Analytics feature?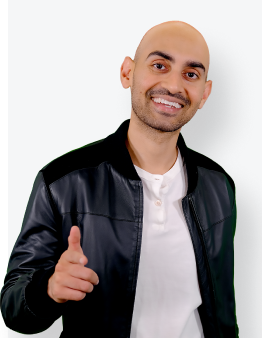 See how my office can run Massive The amount of traffic to your website
SEO – Unlocks huge amounts of SEO traffic. See the real results.
Content marketing – Our team creates epic content that is shared, gets links, and attracts traffic.
Paid media – effective payment strategies with a clear ROI.