Picture through Archive of the Apollo project (public)
Pioneering discoveries is done every day, but for more than half a century the world is still actively talking about the first stages of humanity to the moon. And if you think you've already seen everything you see about the descent of Apollo 11, have you enjoyed it another 360 degrees? No? We thought so.
Artist for visual effects Michael Ranger, known as u / rg123 In Reddit, he chose an unusual way to "open" a new view from a key moment: lens helmet Buzz Aldrin. Using the highest resolution version Available from a photograph taken by Neil Armstrong of Aldrin on July 16, 1969, the artist zoomed directly into its visor – "mostly a mirror ball" – and turned its reflection into a 360-degree panoramic image.
And it is Armstrong, holding on to his Hasselblad camera and clicking shots from a crew member, and the U.S. flag planted on the surface. The sun casts a long shadow over Aldrin, while the Earth gets bored as if it were far away.
The Ranger had created a similar image in the past, but it was a lower quality scan and he had edited it through his iPhone. This time, he sharpened the image and emphasized its colors Photoshop, "Which led to better results."
Result is a 2D image where you can practically "walk" through a free 360-degree viewer like Google Street View or PhotoSphere for iOS. Full size edit can be downloaded here be experienced in these viewers.
This perspective has left social media users amazed, if not a little intimidated. "It's kind of ghostly … Literally 52 years into the future, people will use modern technology to get a new perspective on the past," one user commented. "What great ways do people look at the current 52 years from now?"
The artist has also saved a picture of the video you can check below.
Video off Michael Ranger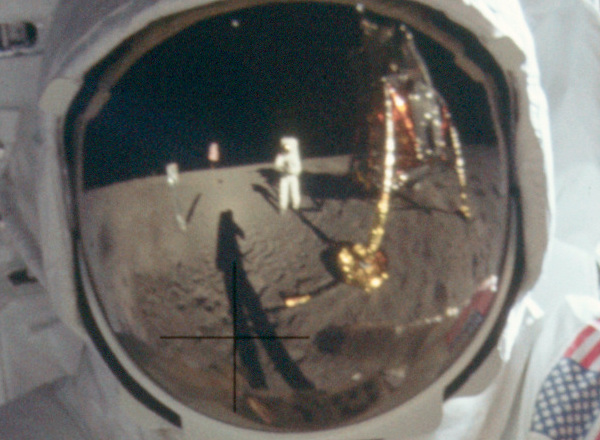 For comparison, a close-up of the reflection of Aldrin's helmet. Picture through Archive of the Apollo project (public)
[via ScienceAlert, video via Michael Ranger, images via Project Apollo Archive (public domain)]
.