With the rapid development of information technology, it is difficult to imagine an enterprise web application without the ability to present data in tabular form. Every day, business people are exposed to a large amount of information, which can also require hierarchical distribution. Without the use of special tools such as TreeGrid (also known as TreeTable), it can be very time consuming to analyze large data sets and make the right decisions.
TreeGrid is an interface element that helps display complex data in rows and columns on expandable / collapsible nodes and allows users to interact with it. It combines the features of the standard DataGrid and Tree components. The main feature of TreeGrid is that it allows you to group data sets hierarchically, which makes it easier to work with the data provided. This function is very much required in financial and analytical systems, reporting tools, CRMs, etc.
If you are involved in creating interfaces for a business-centric web solution, it is helpful to read this article. Here, you'll explore a collection of commercial JavaScript TreeGrid components that can be integrated into applications based on popular JavaScript frames and provide end users with a variety of useful features for managing data.
DHTMLX TreeGrid
DHTMLX TreeGrid is an easy-to-use JavaScript interface driver designed to display big data in complex hierarchical tables without performance constraints. It has a wide range of configuration options that allow all table elements to be fine-tuned to suit your needs. For example, you can resize the tree grid and adjust the height and width of columns automatically based on their content, "freeze" columns, add multi-line content and custom HTML elements to cells, and more.
This JavaScript table can also be used to work with numeric values ​​of different formats and perform calculations (min, max, average) in the table footer / header. If you need to clarify the information in the tree table, you can use custom tooltips. When it comes to interactivity, end users can manipulate data by selecting rows, resizing columns, moving rows and columns by dragging and dropping, sorting and filtering data, and editing content. It is also possible to use spreadsheet data offline once it has been exported to Excel. It works just as well on desktops and touch devices. The layout of the grid is easy to customize via CSS.
Easy to follow start-up process and TypeScript support help make DHTMLX TreeGrid part of your application much faster. This control is included in the package with other UI widgets included in the DHTMLX Suite or as a separate component.
Trial version: DHTMLX TreeGrid
Price: starting at $ 509
Webix tree table
Webix tree table is a responsive design JavaScript widget that helps organize data into hierarchical tree-like structures. In fact, this tool encapsulates the features and methods of the other two Webix data management widgets (DataTable and Tree) and enhances their functionality. It allows you to expand / collapse even entire tables. Thus, it is possible to place multiple tables compactly on a single page without resorting to paging.
Webix TreeTable works seamlessly with large multidimensional data thanks to dynamic loading. Several filtering and sorting options allow users to quickly find the information they need in a spreadsheet and edit it on the fly as needed. Different selection and copy-paste modes make it easy to borrow data from a spreadsheet. The widget also allows you to utilize mathematical formulas and diagrams (Bar, Pie, Spline, etc.) in a grid. The list of available data export formats includes PDF, PNG, Excel. documentation page provides more interesting information about the practical use and features of this JS widget.
Trial version: Webix
Price: starting at $ 849 (full UI widget package)
EJS TreeGrid
EJS TreeGrid is a DHTML component that provides a variety of options for organizing data on an HTML page, including a table, bar chart, grid, tree view, and, as its name implies, a tree grid. This component is written in pure JavaScript format, so you can configure the tree table according to your needs and equip it with the core functions typical of such an interface tool (sort, filter, group, search). A wooden table built with EJS TreeGrid can contain any number of nesting levels in the cells. The component supports various cell types, search types, edit masks, and formatting values.

EJS TreeGrid also allows you to add some additional tools to the grid, such as Gantt chart, calendar, rich text editor. You can work with external objects, such as Flash Adobe or custom JS objects, on the tree table. It is also possible to set animations for different TreeGrid functions. The tree grid interface can be customized for multiple languages ​​using the localization feature (including the Middle East language RTL option). The appearance of the tree grid is fully customizable using CSS styles. The contents of the spreadsheet can be saved in Excel or PDF format and printed as needed. To learn more about EJS TreeGrid, check out documentation section.
Trial version: EJS TreeGrid
Price: starting at $ 600
jqxTreeGrid
jqxTreeGrid is part of the jQWidgets library, which is used to set data using a tree-like installation. This lightweight jQuery widget offers a range of core features with a flexible configuration to manipulate data the way you want. Large amounts of data can be broken down into smaller sections for easy navigation using the paging feature. Load on Demand (also known as virtual mode) is another feature that helps ensure optimal performance with big data in tree grids. When this feature is included, lower-level rows in the tree are created and formatted only when older rows are opened. Other notable features of this widget include pinned columns, aggregates, custom editors, cell formatting, custom cell rendering.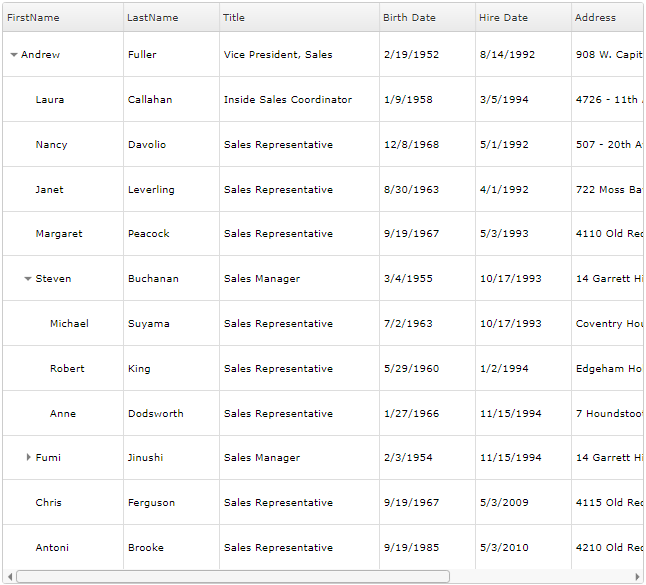 jqxTreeGrid supports several data binding and export options. You can make the tree grid interface understandable to users in different countries by enabling different areas. Using customizable default themes, you can create a custom design for your tree grid. If you want to test practically all the features of the jqxTreeGrid widget, there is a special one jsEdit tool.
Trial version: jQWidgetit
Price: starting at $ 199 (full UI widget package)
Light up the wooden grid of the user interface
Turn on the interface the library provides several user interface components for faster achievement of various web development goals, including a hierarchical representation of data. Two Ignite UI tools are suitable for this purpose, namely a hierarchical grid and a grid. Both grids are functionally similar because they support the main features typically expected for a grid, such as sorting, filtering, and intra-cell editing. However, a tree grid is a better option when building a table where the parent and child nodes have the same structure, or if you want to provide a simpler experience for end users.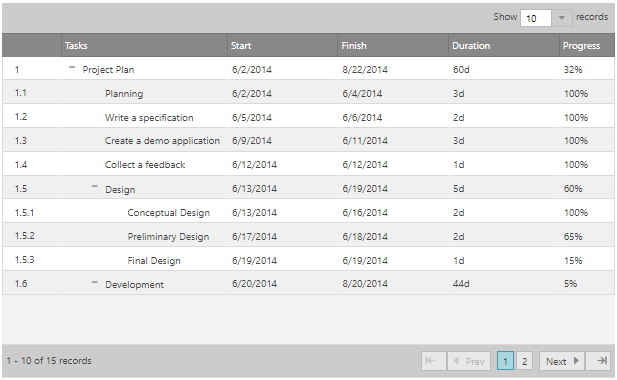 As with jqxTreeGrid, good performance with large data sets is ensured by implementing the paging and Load on Demand features. Infragistics also offers developers two online tools that make it easier to work with Ignite UI network components. HTML5 page designer tool helps you try Ignite UI widgets in action with simple drag-and-drop operations, while Theme generator allows the look and feel of the lattice to your liking. Online documentation gives you a clear idea of ​​how to maximize the potential of this JS component.
Trial version: Turn on the interface
Price: starting at $ 849 (full UI widget package)
Synfusion tree grid
Synfusion tree grid is a JavaScript control for displaying self-referential hierarchical data in tabular form. It is one of the many ready-made interface components included in the Essential JS 2 library. This tool comes with a number of useful features that are crucial for efficient data management such as sorting, filtering, editing, merging, duplicate headers, etc. Thanks to the design optimized for mobile devices, Syncfusion-based spreadsheets are well visible on devices with different resolutions and screen orientation. Special templates allow you to create custom grid elements (titles, toolbars, etc.). For the look of the tree grid, Syncfusion provides not only a package of default themes but also Theme Studio to define your own style.

Data can be downloaded to the table from local and remote sources (JSON, RESTful, OData and WCF services). Control is based on several performance-related technologies. You can use row virtualization and infinite scrolling to enhance your user experience with large data packages. In addition, it is also possible to introduce a static mode that improves the re-rendering of the tree grid. The control also supports localization and internationalization libraries, which help to make the text content and date / number objects of the tree table understandable to users in different countries. If users need a paper version of the data presented in the grid, export it in PDF, Excel, and CSV formats. More information about Syncfusion Tree Grid and how to start it in real projects can be found on the page documentation page.
Trial version: Synusion
Price: starting at $ 995 (full interface widget package)
Last words
In summary, the wooden table is one of the most important and complex user interface components, which can be supplemented with numerous features. Therefore, integrating this feature into your web application from the start doesn't seem like the best decision, especially if you don't have a lot of time. I think it is more efficient to use any of the checked JavaScript components. Which to choose? Follow these three simple steps: choose multiple products to suit your budget, test them with trials, choose the most appropriate option. If you have other JavaScript TreeGrid tools in mind, you can share your suggestion in the comments section.
.