Companies use content calendars to plan, publish, and track content over time. You have a lot of options to consider when creating or updating your own content calendar.
You can also use the content calendar templates below to effectively manage your content production.
What is a content calendar?
A content calendar is any type of document used to plan the design, creation, and publication of digital content.
A "content calendar" can refer to all types of content plans developed for blogs, social media, and editorial teams. Content calendars are available in a variety of formats, such as spreadsheets, calendar applications, or third-party content tools.
See a more detailed guide our guide to creating your own content calendar.
Why do you need a content calendar?
Your content calendar allows you to plan content weeks, months, or years for your marketing channels.
Using a content calendar for your business can:
Produce better content: Creating and publishing content from a defined plan gives you more time to develop and create each content.
Improve your time management: You have schedules and deadlines set for the content creation process, which keeps stakeholders in the task.
Help manage resources: Once you know the content you create, you can decide which designers, content producers, etc. you need to publish your content.
Target team members: Your stakeholders know what needs to be done and how best to work together to meet deadlines.
Identify responsibilities in your team: Content design outlines who is responsible for each part of the creation process.
Reporting Help: Your content calendar allows you to plan when your content engagement will be reviewed over time. You can better understand how your content works.
Keep marketing communications consistent: Content design makes it easy to keep messages consistent across all platforms.
Creating a content calendar
When you create a content calendar, you need to start by choosing an attitude that makes sense to you and your team.
Your content calendar should address:
Time frame
You need to determine how long in advance you want to plan your content. Companies plan content over a month, quarter, or year.
You may find it easier to plan content over a month or a quarter. This will give you enough time to research and develop detailed content.
Marketing channels
Determine which channels your content will live on your schedule. Your calendar can help you distribute your content consistently and evenly across your marketing channels, allowing you to stay in touch with your audience.
You also know the customized content for each marketing channel. Be sure to include all the channels your business uses, including:
Blogs and website content
Social media channels
Email transmissions
Printing marketing
SEO
PPC
Topics
Movers all relevant topics you can refer to in your content. Try to stick to things that are useful to your audience and consistent with the brand's messages.
You can use Topic research tool to find potential topics for your content calendar. Type your target words into the tool and it will return popular SEO potential topics that you can use to make blog or social media posts.
Find out what they are
topic research tool
Proceedings
Plan any holiday or special events over a set period of time. You can't create content for every vacation, but following them can help you schedule your messages more intentionally.
Remember to note all:
National holidays
Top shopping seasons
One-off and recurring events
Schedule
How often can you post content? The frequency should be enough to keep the audience engaged, but not so much that you overload them with content.
Specify a publication date and time for each mail. You can follow these messages with your content calendar so you can quickly see how often you post daily or weekly.
If you've just shared content, it's common to publish a handful of content every month. As you grow as a business, your content output should also grow.
When is the best time to post on social media?
You may need to test your schedules to find the frequency that works best for you. As a guide Schedule recommends publication:
Facebook: once between 1-2
Twitter: 15 times from 2 a.m. to 10 p.m.
LinkedIn: Post once a day from 10am to 11pm
Instagram: once or twice a day from 8 a.m. to 2 p.m.
You can use social planning tools such as Social media poster build, schedule and track messages without logging into your accounts. The social media poster tool is currently integrating with Facebook, Instagram, Twitter, Pinterest and more.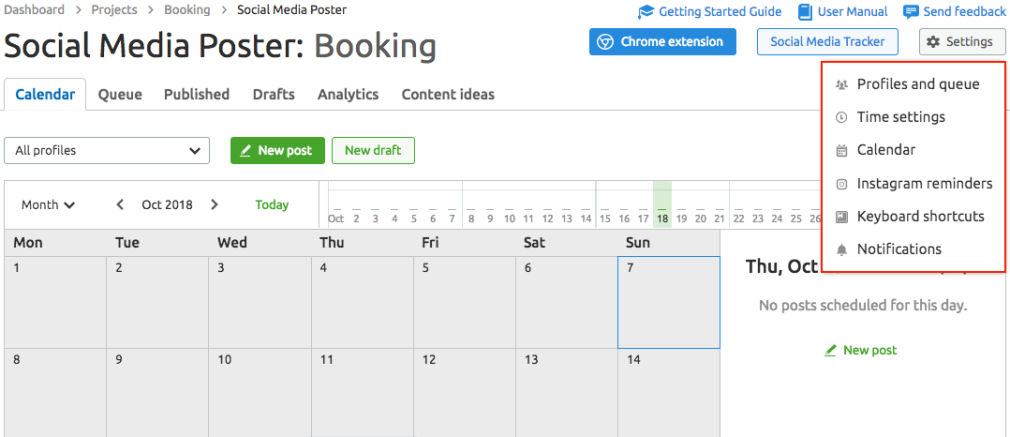 When to send an email
By Wordstream, Tuesdays, Wednesdays and Thursdays are the best days to send an email. These days work well because people are often too busy on Mondays and weekends to read their emails.
Of course, you need to tailor your schedule to the dates and times that work best for your clients. Reach the days when your customers are more likely to open your email.
H4. How often do you update your blog?
Ideally, it is helpful to publish a new blog post once a week. You can always work upwards if you don't have the time or team to help you develop your blog content.
By Blog Tyrant, the best time to publish a blog is Monday or Thursday from 7 to 9 p.m. Be prepared to test different days and times to find the one that works best for you.
3 examples of content calendar
If you need inspiration or a quick calendar template to get started, try:
Blog content calendar template
Email marketing calendar template
Social media content calendar template
Blog content calendar template
Use this template to plan your blog content for weeks, months, or years in the future. We designed it to help you, your content creators, or your team deliver successful, targeted content on time.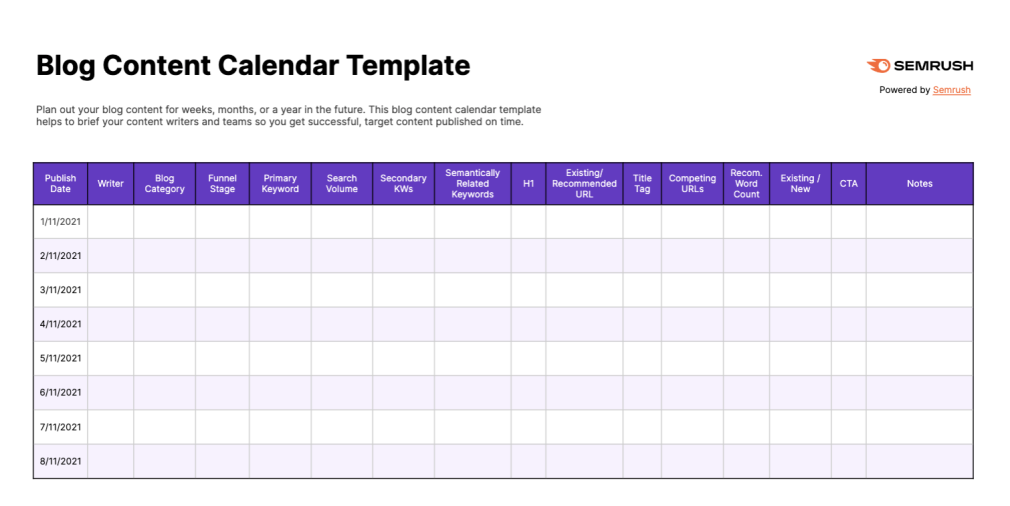 This template contains the necessary information, such as the recommended URL, H1, and header tag. We also added keyword categories so you can later see how well your content performs for your organically targeted keywords.
You can access the blog's content calendar template here.
Email marketing calendar template
Plan your email before sending it using the email marketing calendar template. You have a high-level view of all market segments, product features, offerings and more.
Grab your email marketing calendar template here.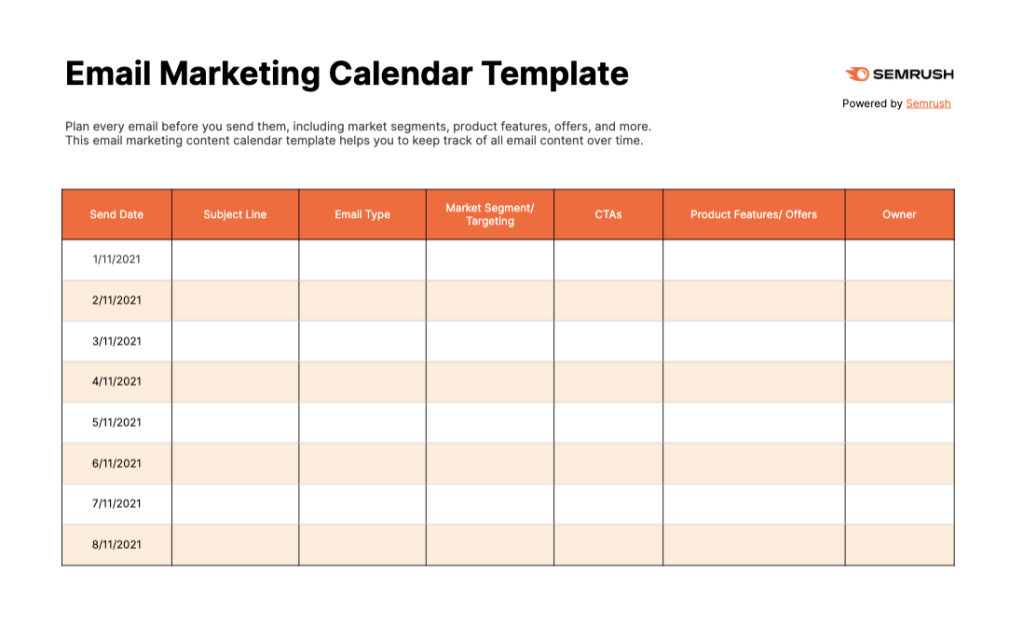 Social media editorial calendar template
This template can help you keep track of all your social media content across different platforms.
You also have the space to plan the most important dates and events on your calendar, such as international events or holidays.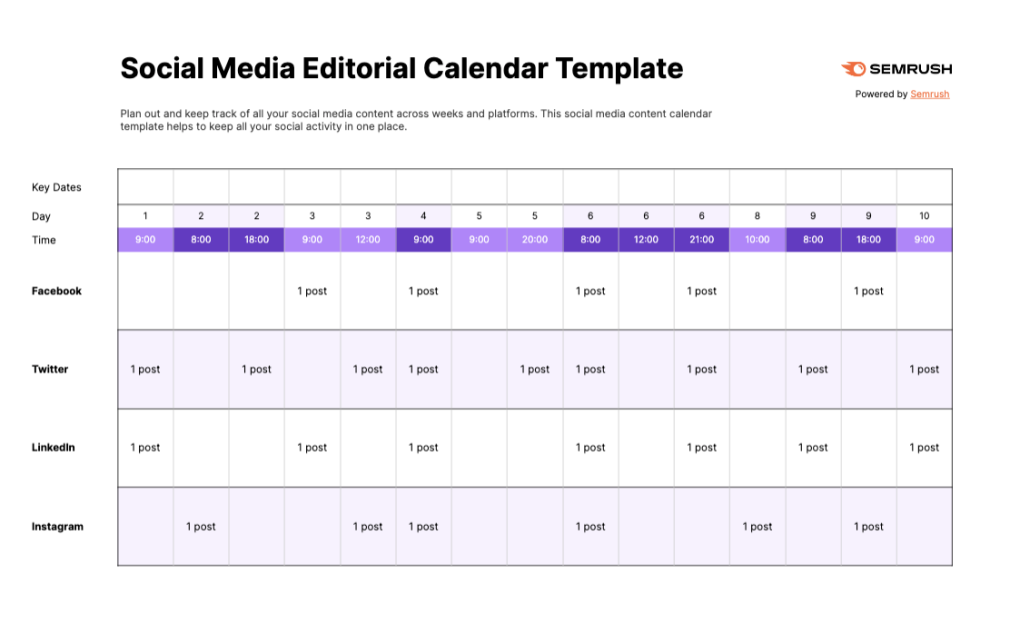 Grab your social media calendar template here.
See our guide to Create a Social Media Calendar | learn more about its benefits.
Content calendar management
Your content calendar should be the most accurate reflection of all your content. Ideally, you or your team should review your calendar to understand how, when, and where your content will be shared.
You can also use a third-party marketing calendar tool to keep things on track. We offer Marketing calendar helps companies plan and track content easily.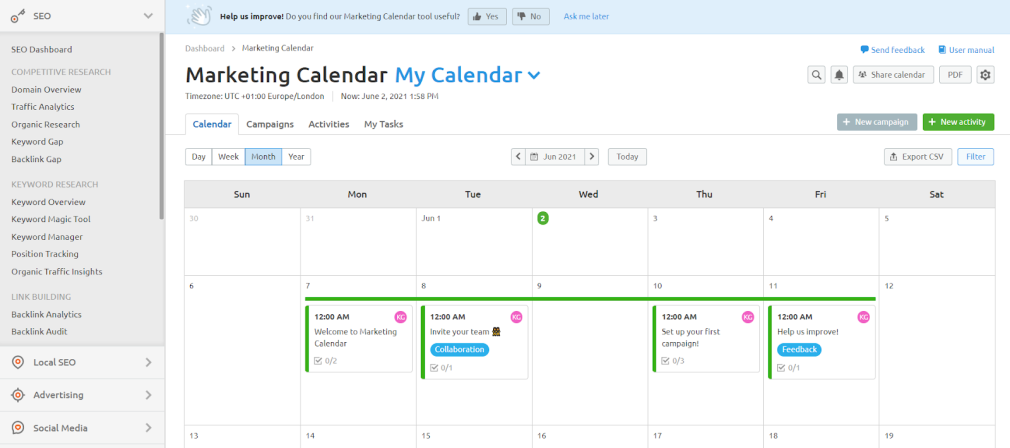 Collaborate in real time You can invite users to collaborate with your marketing in real time. Members can comment and tag others.

View your calendar history
Track changes using calendar history or track tasks as they are completed.
Analyze performance
Google Analytics integration allows you to track content performance with UTM tags.
Design multiple channels
View all your marketing channels with the marketing calendar so you always know what's being published.
Creating content calendars helps you organize your strategy
Try templates to start creating your content calendar today! Once you've customized your calendar to suit your needs, be sure to keep it accurate. With dedicated effort, you may see a positive impact on audience growth and engagement.