China has strengthened controls on cryptocurrence mining and related trade, causing "fear, uncertainty and suspicion" (FUD), which has increased among investors. BTC/ USDT today fell by almost 10%, up to $ 32,266.
China's third largest bank, Agricultural Bank of China, issued a statement banning Bitcoin and other cryptocurrency transactions Agricultural bank services.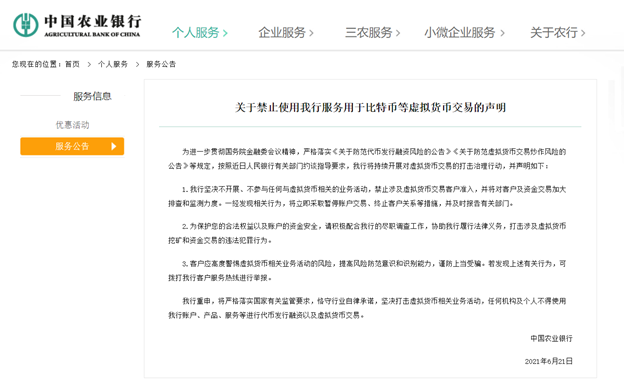 The announcement stated that the financial institution will follow the instructions of the relevant departments of the People's Bank of China, prohibit cryptocurrency trading customers from entering and resolutely engage in cryptocurrency-related companies. No institution or individual may use agricultural bank accounts, products and services for coin issuance financing and cryptocurrency operations.
The opinion emphasized the following:
"When relevant behaviors are detected, account transactions are immediately suspended, customer relationships are terminated and relevant departments are reported."
Restrictions on critical currencies by Chinese banks led to large-scale Bitcoin downtrend. Bitcoin fell nearly $ 1,000 in minutes and started low $ 32,266 on BTC / USDT on Monday. Ironically, the People's Bank of China has removed the related notice in a matter of minutes.
As Blockchain has previously reported, Chinese miners in New York are also facing a strong blow from the Chinese government. Bitcoin's hashrate is at an 8-month low as China intensifies law enforcement against domestic Bitcoin mining.
According to local media reports, the Bitcoin mining sites in Sichuan Province were reportedly massively disconnected from the power supply and lost their ability to continue mining.
Charles Edwards, CEO of Treasurer Capriole, said on Sunday:
"The Bitcoin network has just experienced the biggest attack in its history. The worst-case scenario for China's mining ban has now been shown."
By Coin market, Bitcoin, the largest cryptocurrency, is dropped 6.34% in the last 24 hours and 17.84% in the week.
At the time of the press, Bitcoin was trading for $ 33,153.90
Image source: Shutterstock
.