Numerous financial institutions transformed traditional banking and financing practices into a financial technology (FinTech) business. During the financial crisis, the FinTech revolution began in 2008, and many banks left behind due to new technology. Fintech applications are an easy way for users to make money. Today, the industry is approaching other economies such as remittances, loans, payments, crowdfunding, asset management, cryptocurrency and many different ways to interact with customers and clients.
Many FinTech applications have a great experience that provides additional features for managing users 'finances more securely. Companies often look for ways to make their services useful to customers and the business side. Business today is easy to understand and use.
Because of smartphones, FinTech designers are ready to upgrade the industry. Customers can now use apps with features that allow them to open a new current account, send and receive payment, and connect with customer service.
Creating a financial application
Creating a financial application is not easy to handle, and beginners need to pay attention to every detail. If you decide to take the step, you need to know how to incorporate a brand, create easy access to tools, put in place safeguards to protect sensitive information, and create an interface that users can easily use.
The primary role in the design of financial applications is their presence on mobile devices. So the creation of a FinTech application must be innovative and at the same time adapted to the parameters. User experience and user interface design companies are involved in the design of the FinTech application because they can help with problems by providing excellent solutions.
Best practices
If you're new to the app design process, here are some great tips that can help you.
Understand the customer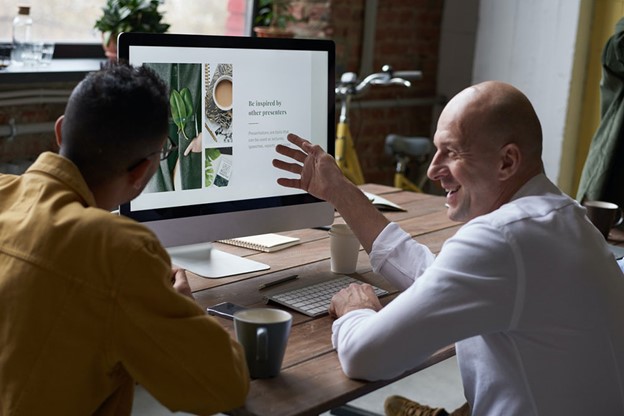 You need to know what your customers are looking for. It is important to know the needs of the customers before designing the application. If you want a well-designed application, learn about the best FinTech applications. They listen to and adapt user feedback, and that's crucial in the design process.
Most FinTech applications are user-friendly, so once you understand what your customers need, the entire team knows what to upgrade to the application. In addition, user feedback is crucial. Both negative and positive feedback are vital for application designers because they can listen and adapt accordingly and improve the application.
Safety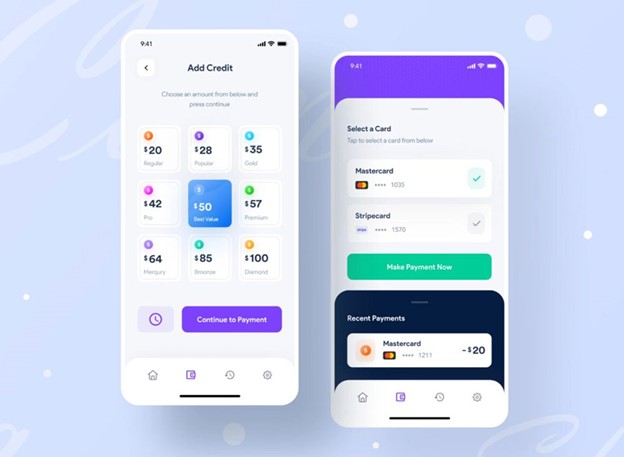 When there is sensitive financial information, users will be satisfied if their information is secure while using the application. Safety must be part of your design process. Make sure users know what you use their personal information when they sign in to the app.
In addition, providing an easy way to transactions requires the challenge of making a safe and secure transfer of funds. Paypal applications have peer-to-peer transfers that require confirmation from banks and users. Users feel safer when using a service they can trust. You can also use other payment gateways.
Good team
If you want to make the perfect app, you need a great team. If your team has unique skills such as network security and business management, they will facilitate the design process because of their knowledge and skills.
In addition, you have significant benefits from the design process; more time and productivity.
Graphics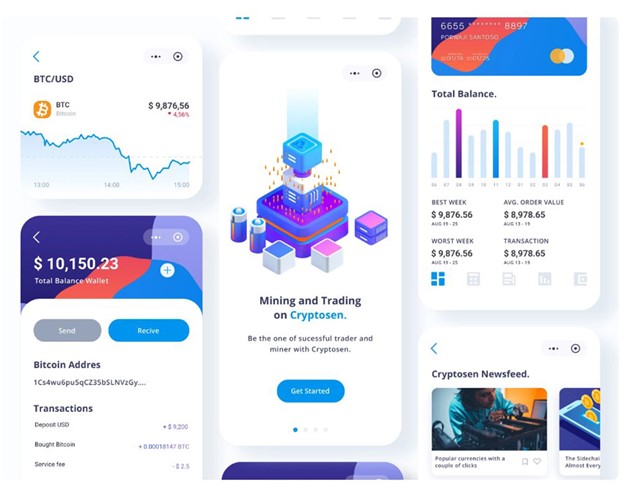 Good graphics make the information easier to understand. Each visualization format, such as tables, diagrams, can provide users with better ways to understand their finances.
Information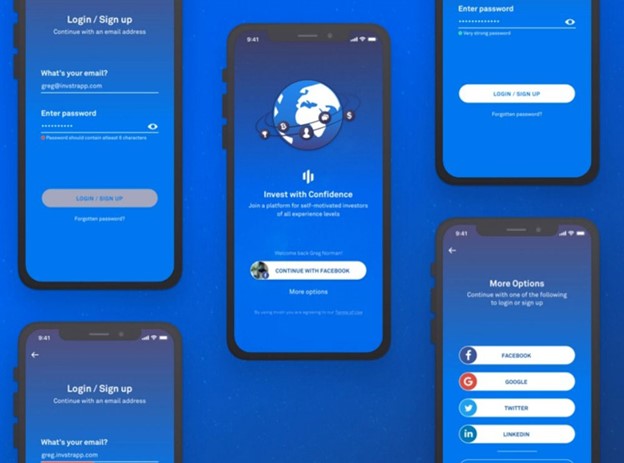 Financial applications require users to fill in personal information when registering. If you want users to be happy, the process needs to be quick, simple, and enjoyable. Adding an indicator in progress tells users about their process. It may sound impossible or uninspired, but designing a FinTech application is a big challenge.
Visible status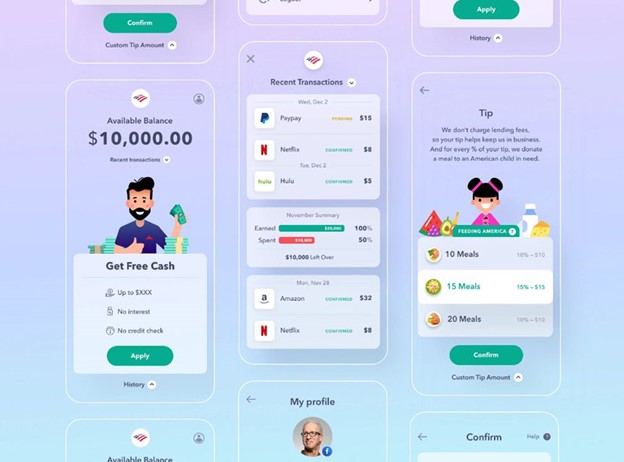 When designing a FinTech application, it is necessary to inform users quite often about the status of the system. Building user trust is very important and makes the user experience consistent. An animation feature that shows the status of the event can be a great way to design a user experience.
Playing
When you make UI improvements in the app, the gameplay is great. Simple tasks such as loading screens and a confirmation prompt make the process easier to use. If there's a puzzle to solve the captcha, it's fun.
Consistency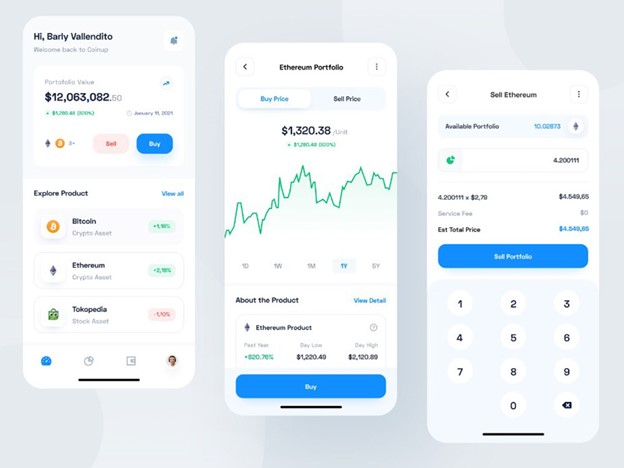 The great design is designed to combine the company's commercial goals and software development options. So staying consistent across all the buttons and capabilities of the app is a design principle that should not be avoided. It helps users navigate the app, avoid mistakes, and makes the app look very professional.
Background color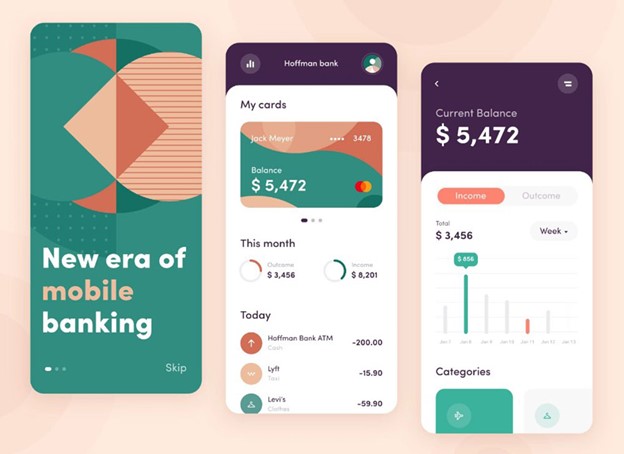 Choosing the right background color and font is crucial. Icons and logos need to be easy to find and navigate, so the background needs to match them. The night space created by Twitter and Messenger is a great example of that. Users can adjust the night lights in night mode instead of a white or other colored background. It is better for their eye health.
Color palettes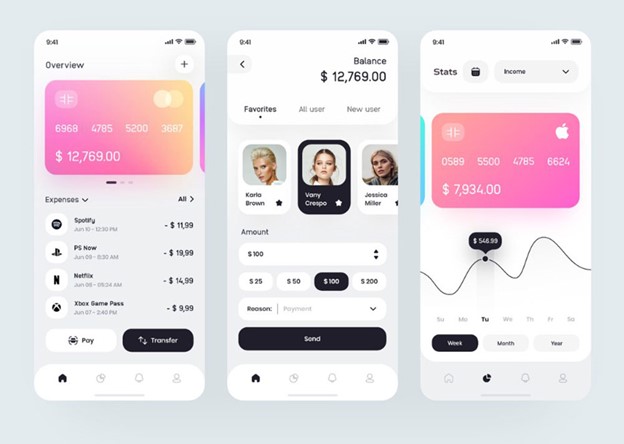 When we talk about the color palette, we are referring to the most important thing. Did you know that the color palette can affect the interface of an app?
Why?
Because color palettes are not just graphics, they provide certain types of information. For example, in finance, red and green represent buying and selling, so be careful when choosing your design colors.
Fonts
The font is also important when designing a FinTech application. The main fonts used are Robot, Barn compactedand Titillium Web. In addition, you should check the appearance of individual characters, such as $. It is quite necessary because in the world of finance, it is about numbers and numbers.
Localization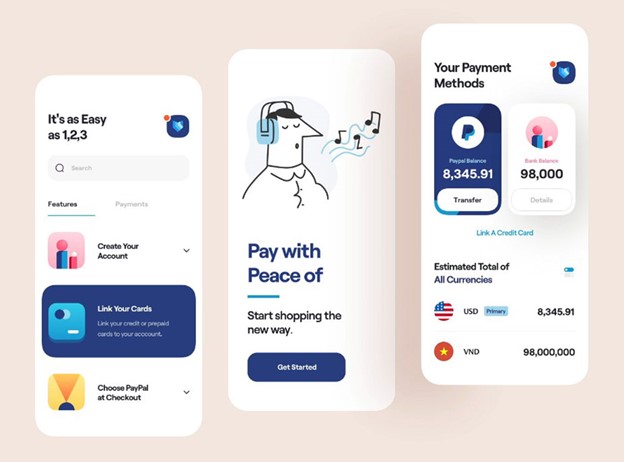 Your audience will continue to grow if your business grows. It would help if you were considering handling international travel and purchases. A good example of application localization is an example PayPal. It can convert money (with a conversion fee) and allow people from other countries to interact.
Fintech applications are a new era. Prioritizing customers and designing the application are essential to the user's journey at FinTech. Companies also want to develop. Structure and discipline are key to building a business, but innovation and efficiency are crucial. The main focus of the FinTech industry is on customers and their needs.