In my role of supporting customer and partner discussions about our Aruba service policy, I have had the opportunity to hear from hundreds of professionals in different roles, all of whom are interested in exploring Network as-a-Service. In these discussions, I have identified some common themes and misunderstandings. Helping people understand the facts and details in these areas usually solves many questions – so I offer the following starting point for understanding how Network as-a-Service combined with flexible consumption and funding can solve key problems for organizations that need some help getting more out of their network environments.
Myth # 1: Technical services are just a (small) add-on to technology products
To be fair to those who think this is true, buying technical services as an add-on to products has been a traditional way of procuring services – and most commonly, the add-on has been support services. Today, however, support services are only one part of the full range of services – and service-led commitments are pioneers.
So this myth is wrong. NO the data show us that the market turning point occurred about five years ago. Most technology products are now sold and delivered as a service, and Software as a Service (SaaS) represents the lion's share of the trend. This trend will accelerate further as more organizations acquire the service and reduce the number of their traditional technology license purchases.
TSIA data show that revenue from services will accelerate from about 2015 onwards
Myth # 2: Interest in service and flexible consumption is accelerating in networks due to the COVID-19 effect
This myth is true. While as-a-Service has been popular, Network as-a-Service (NaaS) has been a bit late compared to, for example, storage and computing. Interest in NaaS, which began late last year, has grown – dramatically accelerating the impact of COVID-19 and the need for IT teams to increase their agility in response to changing demands like never before.
Aruba conducted a survey in June that reveals this acceleration in the NaaS. Three related models have emerged as of interest to IT decision makers to design network delivery:
36% are interested in ordering and service models that ease workload and budgets
35% identify managed services as a point of interest, which means a holistic NaaS approach that includes remote management of their local networks
20% said they were interested in flexible financing models – including models that offer sale-leaseback, deferred payment schedules and secure equipment upgrade / recycling options
Note: n = 2400 ITDM in about 21 countries
Myth 3: Interest in flexible consumption is mostly driven by price or leasing benefits (OPEX)
This is wrong. When discussing service options, I find that sometimes people mistakenly believe that the primary benefit of a model is a lower price or the benefits of using OPEX instead of a CAPEX budget for technical procurement. This is certainly part of the benefit. But the primary benefits of flexible consumption are the TCO benefits resulting from the simplification of network management and equipment handling that are essential for service delivery.
IDC conducts annual surveys that show us what organizations expect when purchasing service solutions. IDC reports the following results: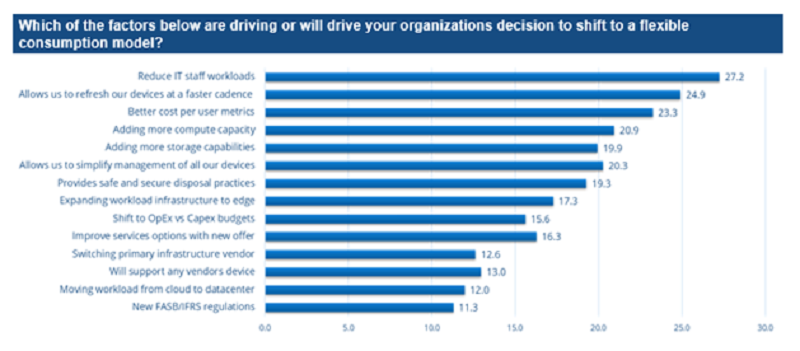 IDC on the factors that guide organizations to move to flexible consumption patternsAs you can see from the table, the leading factors that drive their purchases across all infrastructure as a service, including network connections, are reducing IT staff load, faster equipment upgrades, better per-user pricing, capacity management, device management simplification, and other factors related easily and quickly. The transition from CAPEX to OPEX is also reported, but not as a leading factor.
Source: IT Procurement Trends and Consumption Pattern Survey, IDC, October. N = 300.
Myth # 4: The price of service solutions is higher than traditional CAPEX
Yes, the cost of service solutions is higher – but the cost savings over time are much lower in the following ways:
Management through workflow automation, data analytics, and efficiency saves time.
The better value provided by the network and the combined experience that organizations enable for their end users, partners, and communities, and disruptions to their work are prevented by optimized network performance.
Significant benefits will also be achieved in the recurring renewal process and in accelerating the budget, given the cost of avoiding purchase cycles and the credits released from existing and older equipment.
To explore how lower total costs can benefit your organization and reduce your network and overhead costs, I recommend that you familiarize yourself with the NaaS value creation counter.
Myth # 5: Service and flexible consumption are synonymous
Wrong. Most often, people think these terms are synonymous. But in reality, the service covers both flexible consumption and flexible financing. Flexible consumption is part of the service.
Aruba offers options for all service options that organizations are exploring for networks, including:
SaaS models that provide subscriptions to software with automatic server management, both in the cloud and on-premises
NaaS models that provide comprehensive services throughout the lifecycle by combining hardware, software, and service delivery
Financial services for which we work with HPEFS to provide the best and most competitive options
Want to know more about NaaS?
Visit https://www.arubanetworks.com/services/naas/
Kelly Baig
Hewlett Packard Enterprise
twitter.com/HPE_Pointnext
linkedin.com/showcase/hpe-pointnext-services/
hpe.com/pointnext
.